Seminar on Advances in Bone Reconstruction – already on 23 May!
Brūču Klīnika
February 6, 2010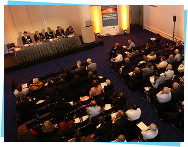 On 23 May 2010, Wound and Bedsore Association and Hospital of Traumatology and Orthopaedics organises a seminar "Advances in bone reconstruction". The seminar is planned as democratic and open forum in which participants will be able to discuss issues of bone reconstruction, share their experience and get recommendations for treating patients with complicated bone injuries.
Several lectures on bone reconstruction and hand orthopaedics will be read by professor Allen Bishop. His lectures are "golden standart" for presenting information: they are academically correct, very imformative and explaining.
The seminar will be useful for professional orthopaedists, surgeons and plastic surgeons treating bone infections, new formations and traumas, as well as for health sector administrators and medicine students.
Prof.Allen Bishop (Mayo clinic)
Prof.A.Bishop is orthopaedist working with reconstructive microsurgery and doing fundamental research in this area. He is an excellent surgeon and theoretician (author and co-author of 116 serious publications). He spends a lot of his time on visiting other countries and doing flagship operations there.: he has been operating in Latin America and South East Asia, he has also taought the local doctors.
Prof.A.Bishop has visited Riga before: in 1996 he consulted patientes and managed a seminar on reconstruction of extremities and hand surgeon.
Seminar "Advances in bone reconstruction", 23 may 2010
Hospital of Traumatology and Orthopaedics (22, Duntes Street, Riga, Latvia)

Topics of the seminar:
Contemporary approach in the treatment of bone infections
Vascularized bone grafting for the extremities (including pelvis, spine, lower extremity)
Functioning free muscle transfers
Volkman's ischmic contracture
Treatment of distal radios fractures
Wrist biomechanics
Vascularized bone grafting for scaphoid nonunions
Free periosteal flaps for clavicle and long-bone nonunion
Paper submittion deadline: 1 April 2010
Applications of the patients until: 10 May 2010
Length of presentation for local speakers: 5 minutes
Language of the seminar: English
Participation fees:

Before 1 May: certified doctors – 50 EUR, residents – 15 EUR, students – 5 EUR;
After 1 May: certified doctors – 70 EUR, residents – 20 EUR, students – 5 EUR;
On-site: certified doctors – 90 EUR, residents – 20 EUR, students – 5 EUR.
Papers, applications, as well as questions on the seminar should be addressed to dr. Ieva Baidekalna
Informative telephone number: + 371 25969175
Regstration form is there