The managing director of the Wound Clinic O.Libermanis about the patients: "Paralysed patients can fight for themselves in fantastic way. As soon as they have overcome the shock, their scale of values changes radically and they start to live with optimism. Spinal patients are very strong, brave people who drive the cars, work, study and love, basically – live. Once I received a call from my patient, a man in a wheelchair who said "You know, doctor, I am very well, but the bedsore really bothers me to play the basketball." These people are real personalities. It could be possible to take from them some life energy, to dilute it with water and to sell it as the life elixir at the pharmacy."

These are people who have had surgical operations of bedsores. They have returned to life and can occupy themselves with activities they enjoy the most.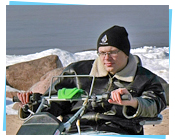 Kaspars
Kaspars is 27 years old and he comes from Limbaži, Latvia. 12 years ago, being very active and energetic young man, he was crazy about different sports, including motorcycle racing. He was unlucky. Once, when trying the new motorcycle, he fell and broke his backbone. In spite of accident Kaspars did not loose his joy of living, he has always enough to do and has no time for complaining. He has graduated from Riga Stradiņš University and now is helping his mother with her business. He still enjoys cars. During winter Kaspars drives a car, but when it's warmer he loves to drive quadricycle,which is specially adjusted to Kaspar's needs. It was a gift of his friends – former driving partners. Kaspars has a wonderful family and friends who always are beside him – both when going the far way to the university, and when relaxing at the garden's party and also in more important situations of life in which some help is needed.
* While staying in a wheelchair, Kaspars like many other people in a wheelchair didn't manage to avoid bedsores. Although his bedsore was comparatively small, it was disturbing the young man's daily life. After the operation the bedsore has perfectly healed which means that now Kaspars has for one obstacle less in realising his plans and achieving goals!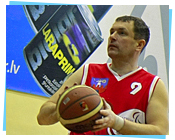 Aigars
It happened around 16 years ago. Aigar, coming from Cēsis (Latvia) was sitting near the driver when the car "flew" into the ditch. He was staying at the hospitals for long time, but anyway couldn't gain back ability to walk after the backbone trauma.When turned back home, he was obsessed with hard thoughts and uncertainty about his future. He had taken the loan to buy a land and a house, he had a wife and three small children and also a feeling that nothing will be like before again. His family and a priest helped him to regain belief in the future.Today all that is already past, thanks to Aigar's persistence, he has gained a lot of help, new friends, new aims and challenges. Already for several years he is an executive director of Latvian Wheelchair-Basketball Federation, and is also actively playing this sport. He's also an expert about accessibility issues – he's doing inspections on whether buildings are accessible for people in a wheelchair in Cēsis, Latvia.
*  For more than four years Aigar fought bedsores which appeared after every treatment again and again. After an operation in Wound Clinic and careful fulfilment of recommendations, he managed to get rid of bedsores. He believes that also positive thoughts are very important, as well as readiness to do something yourself!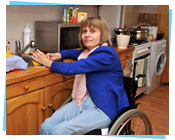 Inga
Inga, coming from Liepaja, Latvia, is a strong person. Not everyone could endure such problems and at the same time to be so optimistic. Inga has a hope: "One day I'll get up from the wheelchair and will start to walk again!" 13 years ago Inga was celebrating her birthday: "It was fun, we were singing and dancing," remembers Inga. "While dancing with one man, we joined elbows, and, keeping backs together, we tried to roll each other.  Suddenly I felt that my partner wanted to sling me over himself. As I didn't like such acrobatic excersises, I got scared and tensed up. I remember: while rolling, I heard something cracking in my neck. When I opened my eyes, I was lying on the floor completely paralised – I couln't move anything."
*Inga had an operation and her health  slowly started to improve. However she still can not move her legs. After several years Inga was treated in the Wound Clinic, where she successfully healed bedsores and osteomielitis.